Pakistani Military Offensive Takes Civilian Toll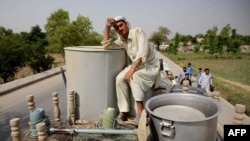 Hundreds of thousands of civilians are suffering in the aftermath of a Pakistani military operation in a northwestern tribal region that is a stronghold of the Pakistani Taliban and international jihadists.
Residents of the North Waziristan tribal district say they have received little help from the government after its jets launched air strikes and more than 40,000 troops moved into the mountainous region on Pakistan's western border with Afghanistan.
Rahim Shah is one of tens of thousands of civilians who remain stuck in towns and villages that have been targeted in air strikes since late last month.
He told RFE/RL's Radio Mashaal that more than half a million residents of North Waziristan have been living under curfew for days as authorities failed to evacuate them after Islamabad announced a "comprehensive operation" against militants on June 15.
"We are suffering in the scorching heat. Our families are forced to live under the mulberry trees," he said. "We don't know how to get out of the area because of the curfew. Our only demand from the government now is to provide us with escape routes so we can relocate to somewhere safe."
Malik Gul Salih Jan lives in a village close to Mir Ali, one of North Waziristan's main towns. He told Radio Mashaal that the government and Pakistani army have done little to help local residents.
"No one treats animals the way they are treating North Waziristan's residents. They are bombing, firing artillery and mortars while our small children suffer," he said. "A six-month-old infant fell on the ground from his cradle when he heard the sound [of exploding bombs] near Mir Ali the other day."
Lawmaker Mohammad Nazir represents North Waziristan in the Pakistani parliament. He said that the military offensive came as a surprise. On June 6 the government had promised representatives of the district that it would not launch an offensive for two more weeks.
"I recently warned Interior Minister Chaudhary Nisar that most recent incursions into North Waziristan had targeted civilians, and this one too will not be different unless they take the locals into confidence by helping them," he said.
Mahtab Abassi, the governor of the northwestern Khyber Pakhtunkhwa province, said that authorities have so far registered nearly 50,000 residents displaced from fighting in North Waziristan.
He told journalists on June 16 that the military will soon lift the round-the-clock curfew to help civilians relocate. "The government is committed to helping them, whether they decide to move into displacement camps or with relatives [outside North Waziristan]," he said.
But Islamabad has yet to turn its promises into concrete actions. A camp it established for displaced persons in a desert near North Waziristan has so far failed to attract a single family.
The Pakistani army claims to have killed nearly 200 militants in the offensive so far. While it brandishes the number as evidence of its success, North Waziristan residents are disappointed at its lack of concern for the local population.
The lack of aid in Pakistan has prompted at least 10,000 North Waziristan residents to seek shelter in neighboring Afghanistan.
Abdul Jabar Naimi, the governor of Afghanistan's southeastern Khost province, told RFE/RL's Radio Free Afghanistan that a camp for civilians fleeing the fighting has been established there. "I hope the international community helps us in looking after them," he said.
as/