Live Blog: Afghanistan's Historic Elections
Gandhara is live blogging Afghanistan's historic elections today (Saturday, April 5). We have eyewitness accounts, reports, and analysis from 50 Radio Free Afghanistan and Radio Mashaal correspondents across Afghanistan. In addition, we are posting photographs, videos, and updates from citizen journalists across Afghanistan's 34 provinces.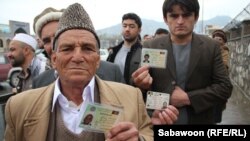 Summary
- Among the eight candidates, the frontrunners are former Finance Minister Ashraf Ghani and two former foreign ministers, Abdullah Abdullah and Zalmai Rasul.

- Polling stations opened at 7 a.m. and are slated to close at 4 p.m. local time, but some could remain open for two hours longer, depending on the number of voters.

- Preliminary results from the first round are not expected until April 24.

- To win, a candidate must secure more than 50 percent of the vote. Otherwise, there will be a runoff between the top two candidates on May 28. Observers say a second round is very likely.

- Voter turnout is expected to be higher than the 2009 election, when only one-third of eligible voters cast their ballots. Some 3.8 million new voters have registered for this election.

- There are major security concerns. The Taliban has promised to disrupt the vote and it has carried out almost daily attacks in Kabul in the run up to the poll. Around 352,000 security forces will be deployed nationwide to provide security, including police cadets still in the academy.

- The presidential vote will take place on the same day as provincial council elections in each of the country's 34 provinces.