Critics of a peace deal between the Afghan government and a militant group led by a notorious warlord accused of atrocities are protesting the agreement by changing their Facebook profile pictures to black.
The peace deal with Gulbuddin Hekmatyar, the exiled leader of the Hezb-e Islami militant group nicknamed the "Butcher of Kabul" for rocket attacks that killed scores of civilians during the 1990s civil war, was signed on September 29 in a ceremony broadcast live on television.
Under the agreement, Hekmatyar will be granted amnesty for past offenses and the government will press for international sanctions against him to be lifted.
Critics blasted the deal in numerous posts on social media.
"Hekmatyar will come to Kabul and we've rolled out the black carpet for him," wrote a Facebook user who called the peace deal "shameful" and changed his profile picture to a black void.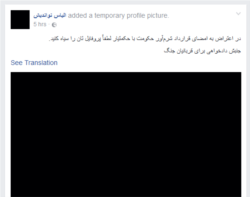 Hekmatyar, who addressed the signing ceremony via a video recording, has been accused of a long list of rights abuses, including indiscriminate shelling of civilians in the capital in the 1990s, the forced disappearance of political opponents, and torture.
Some referred to him on social media as a "criminal" and said that instead of granting him amnesty, the Afghan authorities should put him on trial.
"Go to the roof of the Arg palace and look at the cemeteries remaining from his crimes," a user who had joined the protest wrote on Facebook, referring to Afghanistan's presidential palace.
"Another dark day added to an already massive collection of dark days, as #Hekmatyar completes a group of criminals ruling #Afghanistan," Twitter user Ramin Anwari wrote.
Twitter Embed Tweet
Some said that the victims of Hekmatyar's alleged crimes have been ignored in the deal. "Yes, we have to mourn for the people, for the victims who have been forgotten," said a comment on Facebook.
However, there were also those who suggested that any peace deal that would put an end to violence and death of civilians should be welcomed. "Confrontation would mean the continuation of the current situation and the killings of the nation's children," a user commented on Facebook.
Human Rights Watch has called the deal "an affront to victims of grave abuses."
"[Hekmatyar's] return will compound the culture of impunity that the Afghan government and its foreign donors have fostered by not pursuing accountability for the many victims of forces commanded by Hekmatyar and other warlords that laid waste to much of the country in the 1990s," senior HRW Afghanistan researcher Patricia Gossman wrote earlier this month.