The main border crossing along the disputed Afghan-Pakistani border has reopened after several days of deadly clashes between security forces.
Both Afghan and Pakistani officials said on June 18 that the crossing was in operation after an agreement was reached by authorities in Kabul and Islamabad.
"To reopen the pass there were central and regional-level negotiations," said Attaullah Khogyani, a spokesman for Afghanistan's Nangarhar provincial governor.
The fighting, which killed at least five people and injured nearly two dozen others, erupted at the Torkham gate on June 12 after a dispute over Pakistani plans to build a new barrier at the crossing.
Afghanistan said the barrier was being built on Afghan territory, something Pakistani officials denied.
Afghanistan rejects the colonial-era Durand Line border between the two countries that was created in 1893.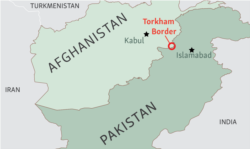 Military reinforcements sent to the area after the dispute started were ordered to leave and cross-border traffic was returning to normal, Reuters reported.
The Torkham crossing is a vital link for bilateral trade and has thousands of vehicles pass through it every week.
Based on reporting by AP and Reuters