Wave Of Bomb Attacks Rattles Kabul, Killing At Least 35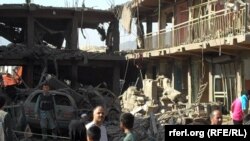 Foreign troops were deployed in a gunbattle near Afghanistan's Counternarcotics Ministry in Kabul after a wave of deadly bomb attacks shook the city on August 7, killing at least 35 people.
An Aghan security source told RFE/RL the foreign troops sealed off the ministry and replaced Afghan security forces there because foreign advisers were thought to be inside the ministry building.
The battle errupted after bombings nearby and gunfire was continuing into the night. NATO jets also were heard flying overhead.
Under a security agreement between Kabul and the United States, most U.S. troops in Afghanistan serve a primary role as advisers and trainers for Afghan forces.
But U.S.-led coalition forces have the authority to take over security operations in order to protect foreign advisers in the country.
There was no immediate confirmation of the nationalities of the foreigners thought to be sheltering inside the Counternarcotics Ministry while the gunbattle raged outside late on August 7.
But the U.S. Drug Enforcement Administration (DEA) works together with Afghanistan's counternarcotics police and Interior Ministry to support investigations targeting major narcotics trafficking organizations that support Afghan militants.
Three explosions rattled Kabul in the evening hours of August 7 after a massive truck bomb earlier in the day.
The Taliban claimed responsibility for an evening suicide bombing near Kabul's police academy that killed at least 20 police recruits and wounded at least 40 more -- the second major terrorist attack in the Afghan capital within 24 hours.
Police say the attacker was wearing a police academy student's uniform when he walked into a group of recruits outside of the academy and detonated his explosives-laden vest.
Within an hour of that attack, large explosions also were heard near Kabul airport and in a residential neighborhood north of the airport. There were no immediate details about casualties.
The third and fourth explosions were close to coalition bases and Afghan government buildings.
In the early morning hours of August 7, a truck packed with explosives was detonated in Kabul's residential Siyah Sang neighborhood near a Defense Ministry compound, killing at least 15 people and injuring about 240.
President Ashraf Ghani's spokesman, Sayed Zafar Hashemi, said in a media briefing on August 7 that 47 women and 30 children were among the wounded in that blast.
Kabul police chief Abdul Rahman Rahimi told RFE/RL's Radio Free Afghanistan that the truck bomb "hit ordinary people and destroyed people's homes and businesses."
He said a wall of the Defense Ministry compound was "partially destroyed" but nobody was hurt inside.
There were no immediate claims of responsibility.
Police do not allow trucks to enter the capital during the day; they can only enter the city between 9 p.m. and 5 a.m.
RFE/RL's Radio Free Afghanistan correspondent Sahar Lewal, who visited the scene of the blast in the morning, said the powerful explosion damaged the bustling area beyond recognition.
"Siyah Sang was a busy neighborhood with private houses and many shops, but this morning it looked like a ruin where nobody had lived for many years," the correspondent said.
"Cars were damaged, the roofs of houses and shops have collapsed, there wasn't one window with glass intact, and contents of shops were scattered everywhere," she said. "People were cleaning shattered glasses."
The correspondent said the power of the blast, which she estimated had left a 10-meter crater in the road, was felt in other areas of the city and could be heard several kilometers away.
Police said officials were searching through the day for anyone trapped under the debris of collapsed buildings.
The U.S. Embassy in Kabul condemned the bombing, saying "this attack in a heavily populated area shows a complete disregard for human life."
The truck bomb attack came after the United Nations said in a report on August 5 that a growing number of women and children were being injured or killed in the conflict in Afghanistan.
The UN report said the number of women casualties rose by 23 percent and children's casualties rose by 13 percent during the first half of this year, compared to the same period last year.
With reporting by AFP, AP, and Reuters