Kunduz Fall Exposes Afghan Government's Vulnerabilities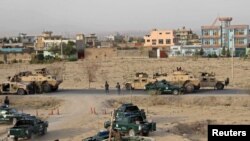 The fall of a major provincial capital on Afghanistan's northern border with Central Asia hangs over the first anniversary of the country's national unity government coming into power.
Hundreds of lightly armed Taliban riding on motorbikes seized Kunduz city, capital of Kunduz Province, on September 28. Their capture marked the fall of the first major Afghan city to the insurgents in 14 years.
"The success of the Taliban stands out because it is one of those rare occasions -- and nothing so significant as this --when it has felt confident enough to openly occupy territory," Marvin Weinbaum, a former Afghanistan-Pakistan analyst for the U.S. State Department, told RFE/RL's Gandhara website.
Weinbaum, now a South Asia specialist at the Washington, D.C., Middle East Institute think tank, says that even if the Taliban are unable to hold the city for long in the face of an Afghan counterattack, the insurgents still will have a major presence in the province.
With the help of thousands of battle-hardened Central Asian fighters, the Taliban gradually increased their presence in Kunduz in recent years and came close to overrunning the city of 300,000 in April. Most Central Asian fighters were pushed into Afghanistan last year by a major Pakistani offensive against their hideouts in North Waziristan, close to the country's western border with Afghanistan.
"As a blow to the national psyche, the Taliban's gains promise to accelerate the public's loss of confidence in the Kabul government and its ability to provide basic security," he said. "The loss can also be expected to increase the exodus [of youth] from the country already in progress."
In Kabul, the Afghan government has attempted to put on a brave face after the debacle. President Ashraf Ghani vowed that Afghan security forces will retake Kunduz.
He urged Afghans to trust the country's security forces and not give in to "fear and terror."
"The government of Afghanistan is a responsible government. It cannot and will not bombard its own citizens inside the city. That is why I ordered ministers, commanders, and all security and other officials to preserve the lives of civilians first," he told journalists in Kabul on September 29.
But on the ground in Kunduz a counterattack will be more complicated and fraught with risks. A former Western official familiar with the region says Kunduz was a point of tension within the national unity government.
"It is an ethnically mixed area with many disputes over land, water, and control of roads," he told RFE/RL Gandhara while requesting anonymity because of Afghan government sensitivities. "This translated into disputes over appointments in government and security forces."
Factions and powerful figures within the Afghan national unity government have a long history of fighting over Kunduz.
He says that Kabul's backing for anti-Taliban militias in Kunduz this year created forces that were hostile to each other. In recent months, many Kunduz residents had complained of militia fighters who had turned into marauding predators.
"All this leads to a very divided and weak government," he said.
Decades ago, Kunduz emerged as a major battleground during the Soviet occupation of Afghanistan in the 1980s. It was one of the first cities to fall into the hands of the anti-Soviet Islamist mujahedin guerillas after the departure of the Red Army in 1989.
During the ensuing civil war of the 1990s, Kunduz turned into one of the most insecure Afghan regions and frequently changed hands among quarreling factions.
The Taliban conquest of the region in the late 1990s finally ended the infighting, but they turned Kunduz into a major military base hosting thousands of Central Asian fighters from the Islamic Movement of Uzbekistan.
Kunduz's fall in November 2001 was marked by the surrender of thousands of Taliban fighters, some of whom were later killed in captivity and a prison uprising in the nearby Balkh and Shiberghan provinces.
Today, in addition to the local disputes and power struggles, Kunduz appears to be at the crossroads of regional rivalries and covert wars that characterize the current Afghan conflict.
Ghani pivoted to Pakistan after assuming office last year in the hope that Islamabad would help end the Afghan war by using its influence over the Taliban to end their violent campaign and deliver the Taliban to the negotiating table.
But escalating violence -- thanks to the biggest-ever Taliban summer offensive and Islamabad's somewhat open tolerance of Afghan Taliban sanctuaries on its soil and its alleged covert support for its leaders and fighters -- forced the Afghan leader to close the window on Pakistan.
"This war is being imposed on us. Everyone knows that it was imposed in the name of someone who has been dead for two years," Ghani said, alluding to the former Taliban leader Mullah Mohammad Omar, whose death in April 2013 was only confirmed this year.
Barnett Rubin, a veteran scholar of Afghanistan, says Islamabad's condition for action to limit Taliban military capabilities were key concessions about the role and influence of its archrival India in Afghanistan.
"Pakistan might want this [Taliban advance] to show the Afghan government that it has to make more concessions on India," he told RFE/RL Gandhara.
Kunduz's fall also has major implications for Kabul's relations with its northern neighbors. It is expected to alarm Tajikistan, Uzbekistan, Turkmenistan, and key regional power Russia.
South Asia scholar Marvin Weinbaum says the capture of Kunduz, separated by the Amu Darya River from Tajikistan, could convince Moscow and its Central Asian allies to strengthen ties with major power brokers and their militias across northern Afghanistan.
"Less certain is the extent to which they will draw closer to the Kabul government," he said.
fg/