Turkey and the European Union have agreed to the outlines of a possible deal on returning thousands of migrants to Turkey, while the tentative plan is being criticized by the UN and rights groups.
After a day of talks in Brussels on March 7, European leaders described a last-minute proposal offered by Turkey to take back one illegal migrant from Greece for every refugee taken in by the EU as the beginning of what they hoped would be a final agreement next week.
"The truth is that Turkey came to the summit with attractive proposals, and I believe that surprised many," said Greek Prime Minister Alex Tsipras.
German Chancellor Angela Merkel, European Commission President Jean-Claude Juncker, British Prime Minister David Cameron, and EU President Donald Tusk described Turkey's proposal as a "breakthrough," though they said more work was needed to refine the plan.
Tusk, who is charged with negotiating details of the agreement with Turkey in the next week, declared that "the days of irregular migration to Europe are over."
Besides proposing a one-for-one "swap" of migrants aimed at dramatically reducing the flow of thousands of migrants through the so-called Balkan route to Europe, Turkey also demanded a doubling of 3 billion euros ($3.3 billion) in aid from the EU to care for Syrian refugees, as well as faster EU membership talks and quicker visa-free travel for its citizens.
European leaders agreed to provide more aid, although they did not specify how much. And they said Turkish citizens would get visa-free access to the EU by the end of June, provided Ankara meets some strict conditions, including changing its visa policy toward Islamic countries and introducing harder-to-fake biometric passports.
However, the UN's refugee agency said that the collective expulsion of foreigners is prohibited under international law.
The director of the UNHCR's Europe bureau, Vincent Cochetel, said he was "tired of hearing about irregular migrants," noting 91 percent of those arriving in Greece are from war-torn countries like Iraq, Syria, and Afghanistan.
Amnesty International also strongly criticized the possible deal. "EU and Turkish leaders have today sunk to a new low, effectively horse-trading away the rights and dignity of some of the world's most vulnerable people," the head of Amnesty's office in Brussels, Iverna McGowan, said in a statement.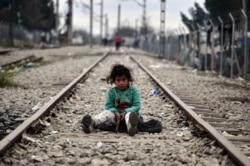 A child plays on a rail track at the Greek-Macedonian border near the Greek village of Idomeni on March 7.
Turkish Prime Minister Ahmet Davutoglu called his swap proposal "game-changing" and said it would discourage illegal migration to Europe, save lives, and hurt the people-smuggling business.
"We made a bold decision through accepting all irregular illegal migrants going from Turkey to Greece, irrespective of their origins," Davutoglu said.
"We will be accepting them based on the assumption that for every Syrian readmitted by Turkey from the Greek islands, another Syrian will be resettled by Europe," he said.
"To stop refugees arriving in Greece, we have to cooperate with Turkey," said French President Francois Hollande, adding that "the summit has created hope that the refugee question can be dealt with."
Meanwhile, NATO Secretary-General Jens Stoltenberg said after talks in Brussels with Davutoglu on March 7 that NATO ships had begun to monitor the territorial waters of both Greece and Turkey as part of its mission to halt human trafficking in the Aegean Sea.
Stoltenberg said Britain and France will send ships to the Aegean Sea as part of the NATO mission.
He also said NATO had decided to intensify monitoring and intelligence operations along the Syrian-Turkish border.
WATCH: Aerial views of the Greek-Macedonian frontier show a migrant camp sprawling across the fields next to a rail line that crosses the border. At least 12,000 people are now stuck there, after Macedonia reduced the flow of people into its territory to a trickle. (Reuters)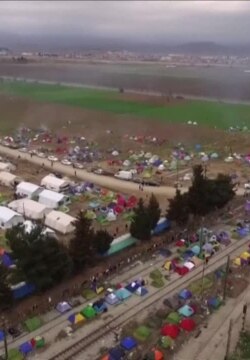 The summit in Brussels was the latest diplomatic push to establish control as Europe faces its biggest inflow of migrants since World War II, with the strains threatening to divide EU members and reverse decades of work to establish the border-free Schengen zone.
Davutoglu said ahead of the summit that he hoped it would "not just focus on irregular migration but also on the Turkish accession process to the EU."
He also said he hoped for a "turning point" at the summit, adding that Turkey was indispensable for the EU, just as Europe was for Turkey.
A purported draft of an agreement was said to call temporarily for the speedy readmission to Turkey of "all irregular migrants" crossing into the Greek islands and more Turkish staff to help achieve that goal.
It also called for increased cooperation by Turkey with the EU and UN refugee agency to resettle Syrians on a burden-sharing basis through a formula of "for every Syrian readmitted by Turkey from Greek islands, another Syrian will be resettled from Turkey to the EU member states."
Efforts to prevent Aegean Sea crossings are hampered by Turkey's long coastline, which offers many possibilities for clandestine human-smuggling operations
The Balkan route from Turkey through Greece and Macedonia to Serbia and further north in Europe has become the main route for migrants to Europe since last year, with 880,000 people using it in 2015 alone.
The numbers have increased this year, with almost 132,000 crossing from Turkey to Greece in the first two months of this year, nearly as many as in the entire first half of 2015.
With reporting by AP, AFP, Reuters, and dpa