Arian made the treacherous journey to Europe from Afghanistan, lured by promises of readily available jobs, immediate citizenship, and generous welcome payments.

But nearly a year after arriving in Germany, the 25-year-old realized that human smugglers had fed him lies about the life of luxury he would live.

Ruing his decision, and disillusioned with bureaucracy, Arian decided to voluntarily return to Afghanistan.

"We had heard rumors from friends that life in Europe would be comfortable, with good jobs and the chance to have a good education," Arian says. "Smugglers are telling people that they will be guaranteed citizenship. But it was all a lie."

By many measures, the Kabul resident could be considered an economic migrant, a grouping that is believed to make up about half of the estimated 200,000 Afghans who have left for Europe. And with European countries being increasingly selective about whom they allow to remain, those who risk being classified as economic migrants -- who left primarily in search of better economic prospects -- are realizing their chances are slim.

Now Arian wishes he had never left.

"If I knew how dangerous the journey to Europe was going to be and how uncertain life would be in Germany, I wouldn't have left Afghanistan in the first place," says the former Education Ministry employee.

Smuggling networks have flourished in Afghanistan -- although proposed changes in the way the European Union and Turkey deal with migrants streaming in from Syria, Iraq, and Afghanistan, among other states, could change the game. Smugglers preying on EU-bound migrants from Afghanistan usually route them through Iran, Turkey, and Greece.

In a bid to debunk myths about guaranteed jobs and generous payments upon arrival in Germany, the German Embassy in Kabul last year launched a media campaign across Afghanistan that warned them not to listen to smugglers.

Life In Limbo

Homayun, who like Arian only goes by one name, spent eight months in Germany. Also like Arian, he returned to Kabul after encountering the unexpected.

Homayun came to Europe on his own and figured his family could follow him. But the German government, concerned the number of migrants could swell, last year temporarily suspended rules that allowed migrants to send for their family members.

He was faced with having to wait two to five years before reuniting with his family in Germany.

"I missed my family and couldn't risk waiting around in Europe while my family was in Afghanistan," the father-of-one said. "There was no guarantee I would be accepted."

For migrants, many of whom travel alone, waiting in limbo can be a dream killer.

When Arian arrived in Europe, he expected to be enrolled in German-language classes that would help him study and work in Germany. Instead, he found himself holed up in a crammed apartment in the city of Fulda with six other migrants and given only a stipend for food.

"The authorities didn't even ask why we had come to Germany," he says. "It was chaotic because there were so many migrants."
WATCH: Determined To Leave Afghanistan, Even As Europe's Borders Close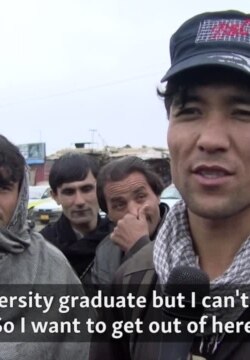 ​

Around 65,000 Afghans asylum seekers have arrived in Germany in the past year, contributing to what has become a processing logjam. Overall, Afghans make up the second-largest number of migrants arriving in the European Union after Syrians, according to the United Nations refugee agency.

"I was kept in limbo for a long time," Arian recalls. "The migration authorities didn't even interview me or start processing my case. I thought that instead of living in uncertainty it was better to come back to Afghanistan."

Arian paid smugglers more than $8,000 -- most of his life savings -- last summer to get to Germany by foot, bus, and boat. His month-long journey took him through Iran, Turkey, Greece, the Balkans, and Austria, before he crossed the German border.

He spent three months in a refugee camp and was then moved to the packed Fulda apartment with half a dozen others. He lasted about nine months.

Investments On Returns

Only nine Afghans were forcibly deported from Germany in 2015. But according to the International Organization for Migration (IOM), the number of assisted, voluntary returns from Germany rose from 92 in 2014 to 304 in 2015.

Now, the Afghan Embassy in Germany said in February, there are as many as 1,000 Afghan migrants in Germany waiting to return voluntarily to Afghanistan.

Under Germany's REAG/GARP return program, the government pays the travel expenses of Afghans willing to return to their homeland.

IOM chief in Germany Argentina Szabados said the government pays 700 euros per adult and 350 euros per child under 12.

"Germany is more in favor of voluntary return of migrants than forcible deportation," she says.

Refugees Vs Economic Migrants

Rainer Ohliger, a migration researcher at Network Migration in Europe, a network of migration academics and professionals in Berlin, expects the number of Afghan returnees to increase in the coming months.

"That is the plan of the German government," he said. "Their line of argument is that Afghanistan has 'pockets of safe areas' to which refugees can be returned."

Ohliger said Germany's overall acceptance rate of Afghan refugees -- as opposed to economic migrants -- was 47 percent in January.

"If 47 percent of Afghan refugees were recognized, one could assume that the rest had other reasons, mostly economic," he said.

Kira Gehrmann, spokesperson for Germany's Federal Office for Migration and Refugees, told RFE/RL that economic difficulties are not valid grounds for asylum protection, although she stresses that authorities make decisions on a case-by-case basis.

In November, Germany's Ambassador to Afghanistan, Markus Potzel, told RFE/RL's Radio Free Afghanistan that more than 50 percent of Afghan asylum seekers in Germany were "economic migrants" who failed to prove that "their lives were in danger" and had therefore been rejected asylum.

That is not to say Afghan migrants' reasons for leaving were not valid, even if they did not come from one of the many regions where the security situation is unstable, where the Taliban or other militant groups are in control, or where ethnic or religious minorities are at risk.

Even in safer areas, the uncertain security situation has had a palpable impact.

People fleeing fighting have stretched the capability of places like Kabul to deal with them, contributing to mass unemployment and a flagging economy.

Now back in Kabul, Arian finds himself unable to find a job, and admits that "life is worse" than when he left for Europe in the first place.