Afghan officials say Taliban militants have attacked an office of the country's main security agency in Kabul, killing at least 28 people and wounding more than 300.
Interior Ministry spokesman Sediq Sediqqi told RFE/RL that the April 19 attack began with a suicide car bomb during the morning rush hour, followed by an assault by armed militants.
The attack -- near the Defense Ministry in the capital's central first district -- targeted an office that houses a National Directorate of Security unit responsible for protecting government officials.
Mohammad Ismail Kawusi, the Health Ministry's public-relations director, told RFE/RL that at least 20 people were killed in the attack and 198 people were taken by ambulance to various hospitals. Numerous others were wounded, he said.
Casualties included both civilians and members of Afghan security forces.
The Taliban claimed responsibility for the attack, which comes a week after the militant group announced the start of its annual spring offensive.
PHOTO GALLERY: Death, Chaos In Kabul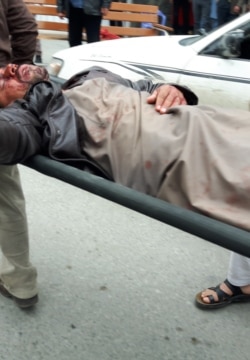 A police commander, Obaidullah Tarakhail, said the blast was "one of the most powerful explosions I have ever heard in my life."
He added that he couldn't see or hear anything for 20 minutes after the initial explosion. "All around was dark and covered with thick smoke and dust," he said.
The explosion also severely damaged dozens of apartment buildings, shops, and government buildings in the area.
The presidential palace, located about 2 kilometers from the blast, condemned the "cowardly terrorist attack," saying it "will not weaken the will and determination of Afghan security forces to fight against terrorism."
President Ashraf Ghani condemned the attack in a statement and said it was the result of the Taliban suffering losses in fighting against security forces in other parts of the country following the declaration of its annual spring offensive.
The attack "clearly shows the enemy's defeat in face-to-face battle with Afghan security forces," Ghani statement.
Sediqqi told RFE/RL that "the suicide attack by the Taliban, in which a vehicle was used, is a clear sign of [the Taliban's] failure."
He said the Islamic extremist group had recently suffered defeats in confrontations with Afghan security forces in the northern provinces of Kunduz, Takhar, Badakhshan, and Jowzjan.
"The Taliban [suffered] huge casualties in the last 24 hours and now they carry out a suicide attack in Kabul," Sediqqi said. "It is a clear sign of their defeat."
Sediqqi said several gunmen fought with security forces after the blast. Afghan officials said those gunbattles had ended.
Taliban spokesman, Zabihullah Mujahid, however, said several of its fighters were still inside the security agency's compound and fighting.
With reporting by AP, AFP, Reuters, and dpa