Kazakhstan's top law enforcement official says authorities believe that suspects in deadly June 5 attacks in the northwestern city of Aqtobe were instructed or inspired by a militant Islamist leader based in Syria.
Interior Minister Qalmukhanbet Qasymov said on June 14 that some 45 people gathered in an Aqtobe apartment shortly before the attacks on two gun shops and a National Guard base.
"They heard an appeal from a so-called imam who told them to carry out a holy jihad and suggested that they act right now," the minister told reporters in Astana, adding that "the so-called imam apparently is from Syria."
Officials say the death toll in the attacks and subsequent police operations is 26, including suspected assailants.
The attacks raised concerns about the potential for further violence and added to the troubles of President Nursultan Nazarbaev's authoritarian government, which faced major protests in April and May against planned land reforms in the oil-rich, former Soviet Central Asian republic.
Qasymov said that the suspects had already been plotting the attacks and "knew the potential targets, and knew how and where to go" before hearing the audio message ahead of the attacks.
He did not say whether the "so-called imam" was believed to be affiliated with Islamic State or any other extremist group with a presence in Syria, or exactly how the message was delivered. The Reuters news agency described it as an audio address.
Nazarbaev has said the attackers -- whom he described as members of "pseudo-religious radical movements" -- had received instructions from abroad.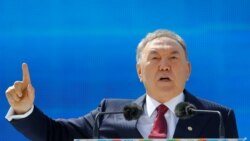 Kazakh President Nursultan Nazarbaev's regime has looked less secure following widespread protests recently.
Reiterating previous official figures, Qasymov said that 45 people were initially involved in plotting the attacks but that 20 of them changed their minds at the last minute and refused to take part.
Kazakh officials say five civilians and three national guardsmen were killed in the attacks. The Committee for National Security has said that 18 suspected attackers have been killed by government forces and nine arrested.
There have been no credible claims of responsibility.
Qasymov said that in questioning suspects, the authorities have established that the aim of the Aqtobe attacks was to obtain sophisticated weapons and target government institutions.
He said seven of the suspected attackers had been known to the authorities because of previous criminal records, while Kazakh media said one suspect -- Alibek Berdybaev -- had been linked to a 2011 suicide attack in Aqtobe.
Tengrinews.kz reported that in December 2011, Berdybaev was found guilty of participating in a terrorist organization and was sentenced to three years in prison. He was sentenced along with 12 other defendants.
Kazakh authorities say the suicide attack on May 17, 2011, that targeted the headquarters of security services was carried out by local man linked to Islamic extremists. They say the bomber was killed in that attack, which wounded two other people.
With reporting by Tengrinews.kz and Reuters