He is a veteran conservative politician known for attempting to introduce strict Shari'a law in Pakistan in the late 1990s before a military coup temporarily sent him into exile. But since his return as prime minister, Nawaz Sharif has emerged as an unlikely torch-bearer for reform.

Sharif and his Pakistan Muslim League Nawaz (PML-N) party, which has strong support among conservatives, have surprised many observers by confronting the powerful religious establishment and calling for a more tolerant Pakistan.

Since the turn of the year, the 66-year-old has enacted a landmark domestic violence bill, promised a tougher stance on so-called honor killings, officially recognized holidays celebrated by Pakistan's religious minorities, and overseen the execution of a man revered by hard-line clerics.

Observers suggest the change of course is down to the prime minister's ambitious plans to overhaul the economy, the considerable influence of his daughter Maryam Nawaz Sharif, and his easing relationship with the country's powerful army, which has an oversized role in domestic and foreign affairs.

"He's a politician and a businessman," Mohammad Taqi, a U.S.-based Pakistan political analyst, said of Sharif, who oversees a vast business empire.
"Jihadist anarchy doesn't suit politics or business. Also, unlike the military, the politicians evolve and learn," Taqi said. "The military sees archrival India and neighboring Afghanistan as zero-sum games; politicians don't. Therefore the utility of jihadism is limited for politicians."

Confronting A Community
After making a triumphant return to Pakistan in 2007, Sharif went on to regain his former post as prime minister in 2013. His ascension to an unprecedented third term came after strong support among rural voters and the religious community spurred his party to a decisive parliamentary election victory.
Sharif has long been closely tied with Pakistan's conservative establishment, an identity forged during his two terms as prime minister in the 1990s. But, in recent months, he has shaken that very establishment and challenged his traditional support base.
In January, the government ended a three-year ban on YouTube that had been supported by clerics to block access to videos defaming Islam.
The same month, in a bid to curtail child marriages, Sharif's party introduced a bill calling for the age limit for brides to be raised from 16 to 18. The Council of Islamic Ideology, the country's top Islamic guidance body, declared the bill un-Islamic. But while the proposed legislation was withdrawn, Sharif made clear that his government was intent on making changes.
In the province of Punjab, where Sharif's brother, Shahbaz, serves as chief minister, lawmakers approved new legal protections for abused women. More than 30 religious groups have threatened to launch protests if the bill is not withdrawn.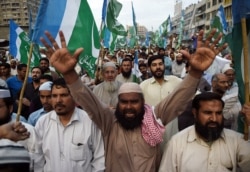 Thousands of Muslim hard-liners took to the streets to denounce the execution of Islamist assassin Mumtaz Qadri.
Earlier this month, Sharif officially recognized holidays celebrated by Pakistan's religious minorities, including Easter and the Hindu festival of Holi.
Perhaps the clearest indication that Sharif had changed tack was an execution that took place under his government's watch. Mumtaz Qadri was executed in February at the order of the Islamabad High Court five years after he assassinated a liberal Punjab governor over his calls to reform the country's blasphemy laws.
Thousands of hard-line Islamists rallied in the heart of the Pakistani capital for four days to denounce Qadri's execution and to call for the introduction of strict Shari'a law in Pakistan.
The sit-in protest ended on March 31 after protest leaders said they were given assurances that controversial blasphemy laws would not be amended and more than 1,000 Islamists detained by police during the protest would be released. The government, however, denied it had acceded to any of the protesters' demands.
"A few years ago a death penalty like this for a religious fanatic would not have been possible," analyst Taqi said. "So credit to the prime minister because he's the one who has to deal with the political backlash."
Going Too Far
Some warn, however, that Sharif risks taking things too far.
Observers have linked pro-Qadri protests with a recent militant attack in the southern city of Lahore that killed 70 people and injured some 300 others. Jamaat-ul-Ahrar, a breakaway Pakistani Taliban faction that supports the Islamic State (IS) group, claimed responsibility and said it specifically targeted Christians.
"If Sharif pushes too far, then both the terrorists and the more moderate religious forces will be galvanized and could respond in terrifying and traumatic ways," said Michael Kugelman, South Asia associate at the Woodrow Wilson International Center for Scholars in Washington.
Kugelman said both the Lahore attack and the pro-Qadri protests in Islamabad "underscore, in a big way, how religious forces can make the Pakistani government vulnerable."
True Reform?

Even as Sharif's government has managed to push through some reforms, however, it has come under strong international criticism.

The United Nations, the European Union, and human rights groups have deplored the government's heavy-handed measures taken following the Pakistani Taliban's gruesome ambush of a military-run school in the northwestern city of Peshawar in December 2014 that left 147 people dead, the deadliest ever attack in Pakistan.

Pakistan has hanged more than 300 people since lifting a moratorium on the death penalty in December 2014. Many were convicted in closed military courts, which critics say fail to meet fair trial standards.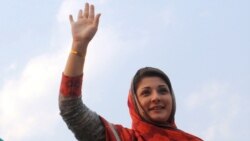 Pakistani Prime Minister Nawaz Sharif's influential daughter, Maryam.

And, in the broader scope of things, analysts say, Sharif has not managed to bring about true reform.

"I would characterize Sharif's moves so far as isolated and even token gestures that haven't occurred in a sufficiently sustained fashion to constitute a formal reform plan," said Kugelman. "There is only so far that he can go, given the constraints posed by powerful conservative vested interests such as mullahs and the military."

Emboldened Position

But observers have said there could be several reasons why Sharif might have changed course in his third term.
"I suspect that some of it may have to do with the thought of leaving a legacy after his third term," Taqi said. "His daughter may be an influence on him too on women's issues."
Sharif's influential 42-year-old daughter, Maryam, has been a voice of moderation on women's issues and the protection of minors.
But perhaps the key to emboldening Sharif to change direction has been his improved ties with the army.
Sharif spent most of 2014 locked in disputes with the powerful military, with tens of thousands of protesters camped near the prime minister's residence demanding that he resign. During those protests, speculation was mounting that the military was considering a coup to oust Sharif. In order to keep his job, Sharif reportedly conceded foreign-policy decisions to the military.
"His relations with the military are perhaps a bit better now than they were months ago," said Kugelman. "So maybe there is a bit more space for him to operate independently."