Pakistani authorities have vowed to hunt down perpetrators behind an Easter Sunday bombing in the city of Lahore that killed more than 70 people and injured some 300 others.
"We must bring the killers of our innocent brothers, sisters and children to justice and will never allow these savage inhumans to over-run our life and liberty," military spokesman Asim Bajwa said in a Twitter post.
A Taliban splinter group claimed responsibility for the blast that ripped through crowds near a children's play area in a city park, where many had gathered to celebrate Easter on March 27.
Jamaat-ul-Ahrar said it had targeted Christians and vowed to carry out more such attacks on schools, colleges, and other government and military interests.
The group said the attack was a "message" to Prime Minister Nawaz Sharif, who counts the Punjab province and its capital, Lahore, as a political stronghold.
Police said the death toll had risen to 72 on March 28, with 29 children among the dead.
Senior police official Haider Ashraf said the majority of the dead were Muslims.
The regional government has announced three days of mourning.
WATCH: Scores Killed In Pakistan Park Bombing (natural sound, viewers may find some scenes disturbing)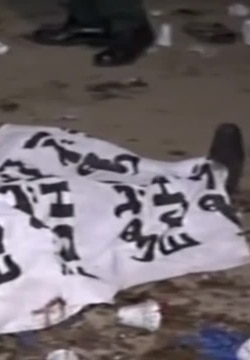 A medical superintendent at a Lahore hospital told the AFP news agency on March 27 that most of the wounded had been in critical condition. "I fear the death toll will rise," he said
Prime Minister Sharif expressed his "grief and sorrow over the sad demise of innocent lives."
His Indian counterpart Narendra Modi telephoned to say "the people of India stand with their Pakistani brethren in this hour of grief," state media reported.
UN Secretary General Ban Ki-moon condemned the attack, calling it an "appalling" act of terrorism.
The Vatican also decried the attack, calling it "fanatical violence against Christian minorities."
.The White House denounced the apparent suicide attack as "cowardly" and pledged to work with Pakistan to defeat those who terrorize the country.

"The United States condemns in the strongest terms today's appalling terrorist attack in Lahore, Pakistan," Ned Price, a spokesman for U.S. President Barack Obama's National Security Council, said in a statement.

"This cowardly act in what has long been a scenic and placid park has killed dozens of innocent civilians and left scores injured," Price added.

Media footage and witness accounts revealed the gruesome carnage left in the wake of the blast.

Children and women were shown standing in pools of blood outside the park, crying and screaming. Rescue officials, police, and bystanders carried injured people to ambulances and private cars.

Javed Ali, a 35-year-old resident who lives across from the park, told AFP that he told his family not to go to there because it was overcrowded with Christians celebrating Easter.

He said the explosion shattered the windows of his home.

"Everything was shaking, there were cries and dust everywhere," he told AFP. "After ten minutes I went outside. There was human flesh on the walls of our house. People were crying, I could hear ambulances."

Overall levels of militant violence in Pakistan have fallen since the army launched a major offensive against Taliban and Al-Qaeda strongholds in the northwest border areas in 2014, though militants continue to stage major attacks occasionally.
With reporting by Reuters, AFP, AP, and dpa