U.S. troops involved in the intense fighting in Kunduz, Afghanistan, that led to the mistaken bombardment of a hospital last fall have testified of chaos and confusion at the scene.
In a heavily redacted Pentagon report released on May 9, American troops who were assigned to be advisers to Afghan forces on the front lines said they got sucked into combat amid a barrage of enemy fire.
The Taliban briefly captured Kunduz in late September, and U.S. Green Beret special operations troops and others testified that Afghan forces were in disarray, forcing them to help with the fighting.
"There was a level of sophistication and coordination that none of us had ever come up against," one unidentified service member said in a sworn statement relayed in the 700-page report.
"There [were] numerous -- now confirmed -- reports of significant foreign involvement from several different countries. Ten upon tens upon tens of thousands of rounds were fired against us during our effort to retake the city," the service member said. "How no one was killed, or even wounded, is an absolute miracle."
The soldier criticized what he said was a "profound lack of strategy" for U.S. forces in Afghanistan, which he said allowed matters to devolve into chaos.
Another special forces fighter said he repeatedly asked his commanders for guidance on "how far to go" in assisting Afghan forces, but got no answer.
"'How far do you want to go?' is not a proper response to 'How far do you want us to go?'" this soldier testified. He also concluded that "it's not a strategy and, in fact, it's a recipe for disaster in that kind of kinetic environment."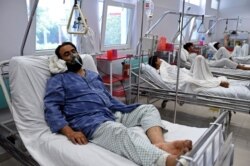 A wounded staff member of Doctors Without Borders receives treatment in Kabul on October 6, 2015.
None of the soldiers suggested that the mistaken bombardment of the Doctors Without Borders hospital in Kunduz on October 3 was the result of confusion about the rules of engagement.
A previous Pentagon report found that tragedy, which caused the deaths of 42 medical staff and patients, was the result of a series of mistakes during a frenetic battle that caused the crew of a AC-130 gunship to misidentify the hospital as a Taliban-occupied building.
The Pentagon disciplined 16 soldiers and officers for that incident but said it was not a war crime because the bombing was not intentional.
With reporting by Reuters and AFP