MAZAR-E SHARIF, Afghanistan -- Gunfire has broken out in the northern Afghan city of Mazar-e Sharif between police who are loyal to a powerful former provincial governor and the central government's Special Police Forces.
RFE/RL's correspondent in Mazar-e Sharif reports that fighting erupted on March 14 as the Special Police Forces were escorting a newly appointed police chief, Abdul Raqib Mobarez, to police headquarters in the capital of Balkh Province. There was no immediate confirmation about casualties resulting from the violence.
Mobarez was appointed as the new police chief by President Ashraf Ghani.
He arrived at Mazar-e Sharif's airport earlier on March 14 but was being blocked from the city by provincial police who are loyal to Atta Mohammad Noor, the former governor of Balkh Province.
Noor wants to name his choice for the post and insists that the Afghan president promised he would be allowed to do so.
The March 14 developments threaten to escalate into an all-out conflict between Ghani and Noor, an ethnic Tajik former warlord who controls a powerful factional militia.
Earlier on March 14, many residents of Mazar-e Sharif heeded Noor's call to go on a day-long strike to protest Mobarez's appointment.
Noor called on city residents to keep shops and markets closed, demanding that Ghani withdraw his decree that appointed Mobarez.
Deputy Interior Minister Khoshal Sadat tweeted that Ghani appointed Mobarez as the new police chief due to "the worsening security situation of Balkh province."
Mobarez "will be accompanied by Special Forces units. The situation is controlled & nothing to be worried about. Additional forces will also soon reach Balkh," he wrote in a separate tweet, adding that Ghani's decree "will be implemented without any delay or hesitation."
Images shared on social media appeared to show an increased presence of security forces in Mazar-e Sharif, with groups of plainclothes gunmen also patrolling the city.
Noor, who for months had rejected Ghani's efforts to remove him from office, in March 2018 agreed to resign as governor of Balkh after 14 years in the post.
Noor is a leading figure in Jamiat-e Islami, a party that is dominated by officials and former militia commanders from the Tajik minority.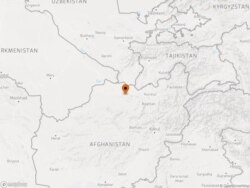 ​With reporting by AP