Taliban Talking Peace With Afghan Government In Norway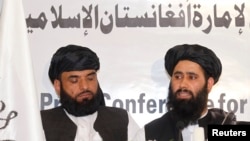 Senior Afghan government officials are expected to hold two days of talks with Taliban representative in Oslo, Norway this week.
The Afghan government and Taliban officials have confirmed the meetings, but neither side is giving details about what will be discussed.
"The Afghan government is trying to involve itself in informal talks with the Taliban," Hekmatullah Azamy, a Kabul-based analyst, told RFE/RL's Gandhara website.
Azamy said that until now, the Afghan government has not participated in such informal talks with current Taliban leadership, whereas politicians, tribal leaders, and other influential Afghans had joined unofficial talks in Norway earlier this month and in Qatar in early May.
The informal gathering will take place during the Oslo Forum 2015, which is co-hosted by the Royal Norwegian Ministry of Foreign Affairs and the Centre for Humanitarian Dialogue.
The meeting, Azamy says, is a significant one.
"This is a really good chance for the Taliban and and the Afghan delegation to sit and discuss a way forward towards the peace talks," he said. "Maybe the Afghan government has something new to offer to the Taliban, and it might raise hope for a negotiated settlement."
Afghan foreign ministry spokesman Ahmad Shakib Mustaghni confirmed that the second deputy to Afghan Chief Executive Mohammad Muhaqiq is leading the Afghan delegation.
Quoting unnamed sources, Afghanistan's Pajhwok news agency reported on June 15 that the country's Deputy Foreign Minister Hikmat Khalil Karzai is leading the official delegation meeting with the Taliban. The report said other members of the delegation include Mohammad Muhaqiq and former Parliament Speaker and ex Vice President Yonus Qanoni. Anwar-ul-Haq Ahadi, a former minister, Hassan Bano Ghazanfar, a former women's affairs minister, and Farhadullah Farhad, the current head of the Afghan High Peace Council Secretariat, are also reportedly part of the delegation.
The Taliban have also confirmed participants from their side. A Qatar based Taliban official, who requested anonymity, told NBC News that Sher Mohammad Abbas Stanikzai and Qari Din Mohammad Hanif will be among the Taliban representatives in Norway.
Sources in Kabul say the fact that Karzai's participation is significant because he is a close confidant of Afghan President Ashraf Ghani. In addition, as a former academic, Karzai has worked extensively on the Afghan peace process over the past decade.
"When he talks it is often seen as words coming from Ghani in Kabul's power corridors," a source who has previously worked for Karzai and who requested anonymity told RFE/RL's Gandhara website.
The Oslo talks also hint at a deepening rift over peace talks among the Afghan Taliban.
Last month, Pakistan's Inter-Services Intelligence Directorate (ISI) facilitated talks between some former Afghan Taliban leaders and the Afghan government in the northwestern Chinese city of Urumqi.
But the meeting was seen as a failure by Kabul because the three Taliban members who participated, Mullah Abdul Jalil, Mullah Abdul Razaq, and Mullah Hassan Rahmani, do not hold power within the current Taliban leadership council. The Taliban never acknowledged the three as speaking on the group's behalf.
On the other hand, the Taliban have been adamant about saying that their political office in Qatar is empowered to talk peace with Western and Afghan officials and influential Afghan figures.
The Afghanistan High Peace Council, the official body appointed to engage in peace talks with the Taliban, is reportedly worried about their diminished role in the Norway talks, according to Azamy.
"Officials in the High Peace Council feel sidelined and are worried that President Ghani might dissolve their organization," he said. Azamy has recently talked to senior member of the council.
The council has so far failed to score a major breakthrough in nearly five years after its formation in 2010.
Most senior officials in the council currently hold contracts set to expire in three months.
With reporting from nbcnews.com and Pajhwok
Editor's Note: Corrections have been made to reflect who is leading the Afghan delegation to Norway. We thank everyone who pointed out this mistake. Gandhara only quoted Pajhwok's report, which said that Hikmat Khalil Karzai was leading the Afghan delegation, which was incorrect.
et/