An Uzbek state TV anchor read out an Independence Day address traditionally delivered by President Islam Karimov, three days after a government announcement that he had been hospitalized set off rumors of his death and conjecture over who might replace the authoritarian leader who has ruled the Central Asian nation since the Soviet era.
The address aired on prime-time news bulletin at 8 p.m. on August 31 and was read out in the first person as if written by Karimov, in what appeared to be an effort to indicate that he remains in charge. It touted the nation's socioeconomic achievements during 25 years of independence and outlined policies for the future.
The message on the eve of Independence Day came just hours after Karimov's younger daughter suggested via social media that her 78-year-old father remained alive, and might recover, following what she said earlier was a brain hemorrhage. The government announcement on August 28 said only that he had been hospitalized and that treatment would take "a certain period of time."

In the absence of official news since then, speculation has raged that a secretive effort is under way to replace the only head of state that the tightly controlled former Soviet republic has ever known.
With unconfirmed reports asserting Karimov is dead and official channels silent since spreading word of his hospitalization, it remains unclear who is currently leading Uzbekistan.
Uzbekistan is the most populous of Central Asia's five former Soviet republics, with around 29 million people, and borders each of the other four in addition to Afghanistan.
Statements posted on daughter Lola Karimova-Tillyaeva's verified accounts on Instagram and Facebook on August 31 thanked the public for "kind words of support and best wishes."
"Your heartfelt good wishes are helping in his recovery," the texts, in Uzbek, Russian, and English, said, countering unconfirmed reports that the former Communist Party boss-cum-president was dead after 27 years running the country and its Soviet antecedent.
It was the second time Karimova-Tillyaeva has taken to social media since the Uzbek government announced over the weekend that Karimov had been hospitalized with an undisclosed illness.
Karimova-Tillyaeva said via social media on August 29 that he had suffered a "brain hemorrhage."
"At the moment, it is too early to make any forecasts about his condition in the future," she said.
Opposition and independent websites published unconfirmed reports on August 29 that Karimov had died. Russian news agencies, meanwhile, quoted unnamed sources in Tashkent denying the reports of Karimov's death.
INFOGRAPHIC: How Does Karimov's Tenure Compare With Other Leaders? (click to expand)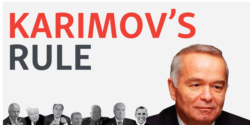 Russian media reported early on August 31 -- the first day of an annual two-day celebration of Uzbek statehood -- that the prime minister and respective leaders of both chambers of the Uzbek parliament had laid flowers at the Independence Monument in central Tashkent.
It is thought to mark the first time that Karimov, who as president of the Uzbek Soviet Socialist Republic declared Uzbekistan independent 25 years ago, has failed to lead that commemoration before then briefing local reporters.
Unconfirmed reports said the government has canceled at least some official events, including a patriotic gala that Karimov was set to attend.
The address read out on state TV on August 31 and attributed to Karimov differed little from previous speeches. It said economic reforms and security remain top priorities for the government as the country and the world face many challenges including the global financial crisis, terrorism, extremism, and drag trafficking.
Uzbekistan will not join any political and military bloc and won't allow foreign military bases on its territory, the message said.
The government's official website released a statement on August 30 citing congratulatory messages to Karimov from world leaders, including the presidents of the United States and China, on Uzbek independence.
The Uzbek Constitution states that if the president is unable to perform his duties, the head of the upper chamber of parliament, the Senate, assumes presidential authority for a period of three months.
No public comments have come from Senate Chairman Nigmatulla Yuldashev, who has led the upper house since January 2015.

Public dissent in the past two and a half decades has generally been met with harsh official responses, and the country has never held an election deemed democratic by Western monitors.
Karimov has no apparent successor, and observers suggest any such decision would likely be made among family or elsewhere within the Uzbek president's tight inner circle.
Prime Minister Shavkat Mirziyaev, who has held that post since 2003, is seen as a possible successor to Karimov, as are Finance Minister Rustam Azimov and National Security Committee head Rustam Inoyatov.
In the past, speculation about possible successors has frequently included daughters Lola and her elder sister, Gulnara, who is thought to have been put under house arrest since a spectacular fall from grace in 2014.
With contributions from RFE/RL's Uzbek Service