Hundreds of Afghans have taken to the streets in Kabul to commemorate the death anniversary of a woman killed by a mob.
In March last year, a Kabul mob brutally attacked 27-year-old Farkhunda Malikzada outside a shrine in the Afghan capital, after one of the men in the group shouted that she had burned a Koran, the Muslim holy book -- an accusation that was later found to be false.
The brutal slaying stunned the country and led to calls for reform of the judicial system, long plagued by corruption, partisanship and incompetence -- and stronger protection for women from violence.
Hundreds of people, some wearing masks bearing an impression of her bloodied face, rallied to demand justice for Farkhunda on March 17.
Protesters, some with fake blood on their faces, chanted "Justice for Farkhunda!" on the banks of Kabul River where the frenzied mob turned on her.
Some demonstrators reenacted her grisly death, illustrating public anger over a Supreme Court ruling last week that upheld reduced sentences for the men convicted of her murder.
The court vacated the death penalty in four cases, reduced prison terms to 20 years in three others and 10 years in the fourth. It also cut the sentences of nine other defendants.
WATCH: The mother of a 27-year old Afghan woman who was beaten to death by a Kabul mob in March, says the brutality her daughter faced was "beyond imagination."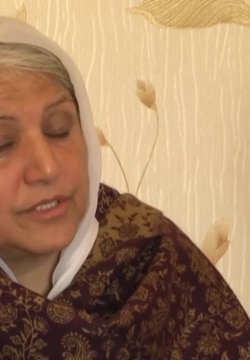 With reporting by RFE/RL's Radio Free Afghanistan and AFP