Kazakhstan remains on high alert a day after authorities said suspected Islamist militants killed six people at a military facility and two gun stores in the northwestern city of Aqtobe, prompting security forces to launch a "counterterrorism operation."
Local media reported on June 6 that firearms stores were closed down and security guards were stationed near the stores in Aqtobe and several major cities, including Almaty, Aqtau, and the capital, Astana.
Tengrinews.kz reported that policemen were patrolling gun stores in the western Mangistau and Atyrau regions on June 6. It remains unclear when the stores will reopen, the local news agency reported.
In attacks carried out almost simultaneously on June 5, assailants killed a guard and a clerk at one of the gun stores and wounded three policemen who arrived at the scene, the Interior Ministry said.

At another firearms store, they killed a visitor before security officers arrived and killed three of the assailants, the ministry said.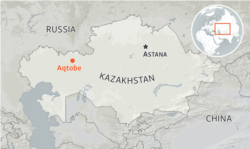 Another group of attackers stole a bus and rammed it into the gate at a national guard base, where they shot three servicemen dead before security officers killed one of the attackers, the ministry added.

Ministry spokesman Almas Sadubaev said that four of the assailants were killed and seven others detained in the ensuing counterterrorism operation. He added that some of the suspected attackers remain at large.

Sadubaev said earlier that nine servicemen were wounded in the attacks.

He was quoted by Reuters as saying that the suspected assailants were "followers of radical, nontraditional religious movements," language that Kazakh authorities often use to describe Islamist militants.

Officials on June 5 ordered locals to remain in their homes, while police temporarily closed down public transportation in the city, as well as malls and other public venues.

The motive for the attack was not immediately clear.

Aqtobe, an industrial city 100 kilometers from the Russian border, was the site of Kazakhstan's first-ever suicide bombing in 2011.

Islamic groups have been under increased scrutiny from Kazakh authorities since that attack, which was carried out by a suspected Islamist militant inside a state security services building.
With reporting by RFE/RL's Kazakh Service, Reuters, Interfax, REN-TV, and Rosbalt