U.S. President Barack Obama has confirmed that Taliban leader Mullah Akthar Mansur had been killed, hailing his death as an "important milestone" in efforts to bring peace to Afghanistan.
"We have removed the leader of an organization that has continued to plot against and unleash attacks on American and Coalition forces, to wage war against the Afghan people, and align itself with extremist groups like Al-Qaeda," Obama said in a May 23 statement.
Afghan authorities say Mansur was killed early on May 21 in a U.S. drone attack in the southwestern Pakistani province of Balochistan, just over the border with Afghanistan.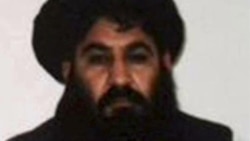 Mullah Akhtar Mohammad Mansour (file photo)
Pakistan's Foreign Ministry criticized the attack as a violation of its sovereignty, saying the United States did not inform Islamabad before conducting the strike.
Mansur was declared the leader of the Taliban in July 2015.
That announcement came days after the Afghan government confirmed that Taliban spiritual leader Mullah Mohammad Omar had died in the Pakistani port city of Karachi two years earlier.
Based on reporting by AFP and AP