Pakistan has closed all schools and has stepped up security in Islamabad and the adjacent city of Rawalpindi ahead of the funeral of an executed former police officer who assassinated a governor in 2011.
Authorities said the measures were a precaution against violence by supporters of Malik Mumtaz Qadri, the executed assassin whose funeral was scheduled for March 1 in Rawalpindi.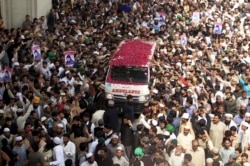 Qadri supporters shower rose petals on an ambulance carrying his body on March 1.
Roads around government buildings, the parliament, and diplomatic compounds were closed for the day.
Qadri's hanging on February 29 triggered street protests in several Pakistani cities where some religious figures, political leaders, and militant groups have publicly defended him.
Qadri was on guard duty in January 2011 when he shot dead Salman Taseer, the governor of Punjab Province who had called for reforms of Pakistan's harsh blasphemy laws.
Qadri accused Taseer of blasphemy and admitted in court that he killed the governor.
With reporting by Reuters, AP, and AFP