Pakistani Police Seek Four Men In Suspected 'Honor Killing'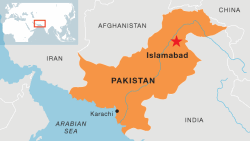 Pakistani police are searching for four men thought to have carried out the brutal slaying of an elderly couple and four of their children in retribution for a perceived "honor crime."
Police officer Mohammed Aslam said the killings, which took place late on December 8 in central Pakistan's Jhang district, stemmed from a case in which a woman from the Swat Valley, Ghulam Fatima, left her husband nearly 30 years ago to marry Fazal Razzaq of Islamabad.
Police say a son from the woman's first marriage spiked the family's food with tranquilizers on the evening of December 8 and was then joined by three other men who hacked Razzaq, his wife and four of their children to death with axes and knives.
Police say three other sons and two daughters of the elderly couple were seriously injured and hospitalized.
Based on reporting by AP, DPA and AFP