At least 22 people were killed and more than 300 injured in a 5.8-magnitude earthquake that struck eastern Pakistan and was felt as far away as the Indian capital, New Delhi, officials say.

According to the United States Geological Survey (USGS), the quake's epicenter was close to the city of Mirpur in the Pakistan-controlled area of the disputed Kashmir region.

The information minister in Pakistan-administered Kashmir, Mushtaf Minhas, said that 22 people, including women and children, were killed in the earthquake, mostly due to collapsing roofs and walls.

The authorities are supplying "tents, food, and other essential items" to the affected people, Minhas said.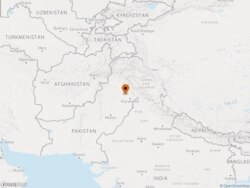 Raja Qaiser, a deputy commissioner, said a main road near Mirpur was badly damaged, causing accidents and damaging vehicles.

The military said "aviation and medical support" teams had been dispatched to the region.

The tremors shook walls in the Pakistani capital, Islamabad, and left people standing in the streets outside, witnesses reported.

Earthquakes are common in the region.
In October 2015, a quake killed more than 400 people and left several thousand homeless in Afghanistan, Pakistan, and India.
With reporting by AP, Geo News, the BBC, and dpa