At least 36 people were killed and scores more wounded in a suicide attack on Istanbul's main international airport late on June 28.
Turkish officials say three suicide bombers arrived at Istanbul's Ataturk airport by taxi and blew themselves up at the entrance near the security check-in area after an exchange of gunfire with police.
One attacker with an automatic rifle reportedly shot indiscriminately at travelers in the terminal before setting off his suicide vest. Turkish Justice Minister Bekir Bozag said there were also signs of an explosion near the metro station at the airport.
With similarities to the Brussels airport bombings in March, Turkish Prime Minister Binali Yildirim said initial indications are the Islamic State extremist group was responsible.
Turkish President Recep Tayyip Erdogan condemned the attack, saying "innocent civilians" were the victims. He said such a "heinous" attack could occur at any airport in the world.
"We urge the world, especially Western countries, to take a firm stance against terrorism," he said.
Witnesses said three violent explosions shook the building, sparking panic among passengers and causing the roof to cave in. Blood and body parts covered the scene.
At least 147 wounded, among them police officers, were being transferred to local hospitals.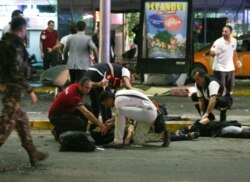 Paramedics attend to casualties injured outside the airport.
Hundreds of passengers flooded out as Turkish authorities evacuated the airport.
All planes were diverted to nearby airports and flights out of the airport were halted, but air traffic was due to resume at 3 a.m. local time. The United States temporarily stopped all flights to and from Istanbul, one of Europe's busiest airports.
The United Nations, as well as the United States, Germany, and other nations strongly condemned the attacks.
"Ataturk International Airport, like Brussels airport which was attacked earlier this year, is a symbol of international connections and the ties that bind us together," White House spokesman Josh Earnest said. "We remain steadfast in our support for Turkey, our NATO ally and partner."
Turkey has been hit by a string of deadly attacks in recent months, blamed on both Kurdish rebels and Islamic State militants.
With reporting by AP, Reuters, AFP, and dpa