Revisions To Turkmenistan's Neutrality Policy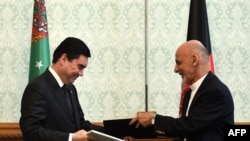 For almost 20 years, authorities in Turkmenistan have helped isolate the country by constantly referring to its UN-recognized status as a neutral country. But with some two months until Turkmenistan marks the 20th anniversary of its "positive neutrality" policy, events regionally and globally have started to erode this strategy, cracks are appearing, and, at the least, the definitions of "positive neutrality" will need to be revised.
Turkmen President Gurbanguly Berdymukhammedov was in the Uzbek capital, Tashkent, on October 7-8. Uzbek President Islam Karimov invited Berdymukhammedov to make the visit at the start of October and it came just some 10 days after the Taliban and foreign militants briefly captured the northeastern Afghan city of Kunduz.
Uzbek media listed the topics on the agenda when Berdymukhammedov and Karimov met, starting with "the two leaders exchanged opinions on the situation in Afghanistan..."
The situation in northwestern Afghanistan, in the areas adjoining Turkmenistan, is as bad as the situation in northeastern Afghanistan. On October 8, the same day the two presidents met, Afghanistan's Pajhwok news agency reported that Taliban fighters captured more parts of the "Garziwan and Pashtunkot districts of northern Faryab Province." Faryab Province is one of the four Afghan provinces bordering Turkmenistan.
The same article also reported the Taliban launched an unsuccessful attempt to capture the provincial capital, Maimana, on October 4 and cited provincial council head Syed Abdul Baqi as saying, "Despite suffering casualties in Garziwan and Pashtunkot, Taliban might storm Maimana ... if the government does not reinforce security personnel."
Three Turkmen border guards and three soldiers were killed in 2014 by armed men who crossed into Turkmenistan. The three soldiers were killed in May 2014 by militants who crossed the Turkmen border from Faryab Province.
According to statements in recent months from provincial and local officials in Faryab, Taliban forces and their foreign allies now control dozens of villages in the province.
In February 2014, militants crossed from the Badghis Province into Turkmenistan and killed three Turkmen border guards. Militants near the Turkmen border continue to stage attacks in the Badghis and Jowzjan provinces.
Neither Turkmenistan nor Uzbekistan is a member of a military bloc. No one is obligated to come to their defense if those countries face security problems.
Turkmenistan is worse off than Uzbekistan in terms of defense capability. The latter started building up its military shortly after becoming independent; Turkmenistan gave cursory attention to its military, relying on "positive neutrality" to shield the country from potential external threats.
Since the killings along the border in 2014, Turkmen authorities have been working to build up the armed forces and strengthen the presence along the frontier with Afghanistan. Recent reports (here and here), claim that 70 percent of Turkmenistan's troops and war machines are now stationed along the 744-kilometer border with Afghanistan. Turkmenistan has dug ditches along the border, built fences, and set up new border posts.
But Turkmenistan's army remains untested, its abilities unknown. Judging by the incidents in 2014, Turkmen troops are not the equal of the militants across the border in Afghanistan.
Which brings us back to Berdymukhammedov in Tashkent. Relations between Turkmenistan and Uzbekistan drastically improved after Berdymukhammedov became president in late 2006, in no small part due to the respect Berdymukhammedov has always shown Karimov. Their relationship is that of the elder (Karimov) to a young man. It would therefore hardly be surprising if Berdymukhammedov made inquiries about military help from his neighbor.
Karimov has been greatly concerned about, and has been fighting against, political Islam and Islamic extremism since the early days after the fall of the Soviet Union. Uzbek troops were sent to Tajikistan during that country's 1992-97 civil war and Uzbek warplanes bombed fighters of the Islamic Movement of Uzbekistan in the mountains along the Kyrgyz-Tajik border in 1999 and 2000, usually without permission from Bishkek or Dushanbe.
If Berdymukhammedov did ask about possible help with security along the Afghan border, it is likely, given Karimov's history, that the Turkmen leader received assurances.
Ashgabat has already requested military assistance from the United States, and Turkmen Foreign Minister Rashid Meredov is visiting Washington this week.
So, the policy of positive neutrality is already being adjusted.
Another recent event impacts Turkmenistan's foreign and domestic policies. When Russia launched cruise missiles from warships in the Caspian Sea on October 7, the targets were in Syria, but a message was sent to the other Caspian littoral states -- Azerbaijan, Iran, Kazakhstan, and Turkmenistan --that the Russian Navy rules the Caspian Sea.
Turkmenistan and Azerbaijan have been actively discussing construction of the Trans-Caspian Pipeline (TCP) with the European Union for many months. The TCP would bring Turkmen gas across the Caspian seabed to Azerbaijan and on to Europe, part of the EU's Southern Corridor energy strategy to lessen Russian gas exports to Europe. Russia opposes the TCP project.
Turkmenistan is losing two of its three gas consumers -- Russia and Iran -- and is at risk of being totally reliant on its remaining customer -- China. Gas exports are not just a key Turkmen export, they are practically the only Turkmen export.
Currently, the only options for new export routes for Turkmen gas are the TCP and the Turkmenistan-Afghanistan-Pakistan-India (TAPI) gas pipeline projects. Construction of the Turkmen section of TAPI is scheduled to start before the end of this year. But the security situation in Afghanistan and in Pakistan's southern Baluchistan region, through which the pipeline route also would run, remains such that it is unlikely pipeline construction will get any farther than Turkmenistan's border with Afghanistan.
Following Russia's launch of those cruise missiles, it is unlikely the TCP will be built any time soon.
That leaves Turkmenistan in a bad place. According to an October 4 report from the Turkmen opposition website chrono-tm.org, substantial employee cuts are coming in Turkmenistan's gas industry. That, of course, follows a nearly 50 percent reduction in the price of gas on world markets in the last two years.
So Turkmenistan needs to rethink its business strategy. The TCP and TAPI projects, and the two existing gas pipelines to Iran, are all ideas from the mid-1990s. The only new project for Turkmenistan since then is the Central Asia-China pipeline, agreed to in 2006. Three of the four branches of this pipeline project are operating and Turkmen officials have said gas exports to China for 2015 should exceed 50 billion cubic meters (bcm). In comparison, combined Turkmen gas exports to Russia and Iran for 2015 will probably be something a bit more than 10 bcm.
The success of the Chinese pipelines is due to Turkmenistan's decision to allow Chinese companies unprecedented access to Turkmenistan. The China National Petroleum Corp. has the only onshore contract to develop a Turkmen gas and oil field. China also paid for and constructed the pipelines leading from Turkmenistan through Central Asia back to China.
Many foreign companies have shown interest in working in Turkmenistan. Some have even been willing to join the TAPI project but on the condition they have a share in developing onshore gas fields.
Turkmen authorities have resisted this demand, not only to lay sole claim to the profits but also to avoid allowing foreigners into the country. The Turkmen regime's stability, based on isolation cloaked in positive neutrality, is endangered by the ideas of foreigners.
However, granting onshore contracts to foreign companies could be a relatively quick solution to Turkmenistan's mounting economic problems. But this would require further retooling the policy of positive neutrality.
RFE/RL Turkmen Service Director Muhammad Tahir helped in preparing this report.