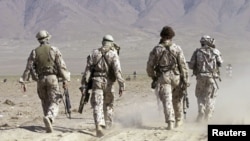 A journalist with Australia's national broadcaster ABC will not be charged over 2017 reports that revealed the country's involvement in potential war crimes in Afghanistan, federal police confirmed on October 15.
Daniel Oakes was facing three potential charges over a series of reports called the Afghan Files, which were based on leaked documents exposing Australian special forces troops' role in the alleged crimes. The charges were linked to obtaining classified information.
After the the Australian Federal Police (AFP) submitted evidence to the Commonwealth Director of Public Prosecution (CDPP), it was determined that it would not be in the public interest to charge Oakes.
"In determining whether the matter should be prosecuted, the CDPP considered a range of public interest factors, including the role of public interest journalism in Australia's democracy," the AFP said in a statement. "The CDPP determined the public interest does not require a prosecution in the particular circumstances of this case.
"The AFP concluded that it had finalized its investigation into Oakes. The AFP made the same decision in regard to ABC journalist Sam Clark in July.
The Afghan Files led to raids on the ABC's Sydney headquarters last year and sparked calls for media law reforms to protect journalists and their sources.
The ABC on October 15 said the "whole episode has been both disappointing and disturbing."
"While we welcome this decision, we also maintain the view [that] the matter should never have gone this far," ABC Managing Director David Anderson said. "Journalists in this country should not be prosecuted for doing their jobs, and legislation needs to be changed to provide proper protection for journalists and their sources when they are acting in the public interest."
Oakes told the ABC that after waiting three years the news was a "considerable relief."
"It doesn't come as a surprise to me that it's taken this long to resolve this matter, but look, it's obviously not ideal and it has been a very difficult three years," he said.
He added that whistleblower David McBride was still facing persecution for allegedly leaking the secret defense force documents that revealed the involvement of special forces in possible unlawful killings of Afghan civilians, including children.
"I am justified in doing so because our government was breaking the law. ... If the government commits war crimes, it is the duty of an officer or a lawyer to speak up about it," McBride told dpa last year.
McBride, who served in Afghanistan as a military lawyer, is facing five charges including theft of Commonwealth property and unauthorized disclosure of information. If found guilty, he could be jailed for up to 50 years.
"The Afghan Files is factual and important reporting which exposed allegations about Australian soldiers committing war crimes in Afghanistan," Anderson said. "Its accuracy has never been challenged, and it remains online for audiences to read."